SCOTIABANK SPONSORS 15th ANNUAL CANCER BALL
May is Cancer Awareness Month
Nassau, The Bahamas, May 11, 2016 – In keeping with Scotiabank's commitment to the community, the Bank announced its bronze sponsorship of the Cancer Society of The Bahamas' 15th Annual Gala Ball.
"Community is at the heart of what we do at Scotiabank! We are proud to partner with the Cancer Society on its Annual Gala. Proceeds from this major fundraiser go toward completion of the Cancer Caring Centre, a temporary home for patients from other Bahamian islands who fly to the capital for treatment," said Maxine Seymour, Manager, Sponsorships & Philanthropy, Scotiabank.
The Ball is scheduled for Saturday, May 28 at the Melia Nassau Beach Resort under the theme, 'Hold my Hand. Touch my Life!'. The Rt. Hon. Perry G. Christie, Prime Minister, and his wife are the patrons. Freddie Munnings Jr. is the featured artist. Cocktails are at 7:00p.m., dinner will be served at 8:00p.m.
May is Cancer Awareness Month. In addition to sponsoring the Ball, Scotiabank employees participated in the Stride for Life annual fun run/walk hosted by the Cancer Society of The Bahamas this past Saturday, May 7.
About the Cancer Society of The Bahamas

The Cancer Society of The Bahamas, a registered non-profit organization, was established in The Commonwealth of The Bahamas in 1976. Its aims are to educate the public about Cancer so that it may be prevented or diagnosed and treated in its early stages, to be of service to cancer patients, and to raise funds to support these programmes.
Cancer Society members function solely on a volunteer basis in the areas of education, health care, counselling and fundraising. The Society is funded solely by the public donations which are raised through the major appeal Love Lights a Tree, the Annual Raffle, Cancer Ball, Stride for Life and also by special fundraising events, private donations and memorial gifts. (http://cancersocietybahamas.org/)
About Scotiabank

Through our global community investment strategy, Scotiabank and its employees support causes at a grassroots level. Recognized as a leader for our charitable donations and philanthropic activities, in 2015, Scotiabank contributed $67 million to help our communities around the world.
Scotiabank is Canada's international bank and a leading financial services provider in North America, Latin America, the Caribbean and Central America, and Asia-Pacific. We are dedicated to helping our 23 million customers become better off through a broad range of advice, products and services, including personal and commercial banking, wealth management and private banking, corporate and investment banking, and capital markets. With a team of more than 89,000 employees and assets of $920 billion (as at January 31, 2016), Scotiabank trades on the Toronto (TSX: BNS) and New York Exchanges (NYSE: BNS). Scotiabank distributes the Bank's media releases using Marketwired. For more information, please visit www.scotiabank.com and follow us on Twitter @ScotiabankViews.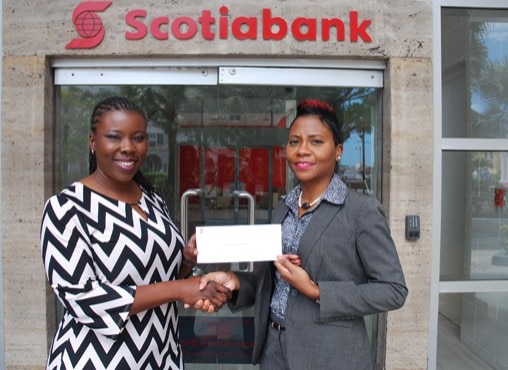 Pictured L to R: Maxine Seymour, Manager, Public and Corporate Affairs, Sponsorships and Philanthropy at Scotiabank presents the bank's sponsorship contribution to Esaura Roker, Chairperson, Public Relations Committee, Cancer Society of The Bahamas.
 
For further information, please contact: 
Maxine Seymour
Manager Public & Corporate Affairs, Sponsorships & Philanthropy 
Marketing and Public Relations 
t: (242) 356-1446
f: (242) 356-1601
e: maxine.seymour@scotiabank.com