Scotiabank Celebrates 60 Years in The Bahamas
Festivities Launched at Main Branch in Nassau
Nassau, The Bahamas, September 8, 2016 – Scotiabank is celebrating its Diamond Anniversary – 60 years in The Bahamas. Government officials, industry executives, longstanding customers, community leaders and bank personnel recently gathered at the Main Branch in Nassau to launch the celebrations.
"We are proud to have served the Bahamian community for the past 60 years, providing advice and financial solutions to persons and their businesses," said Sean Albert, VP & District Head, Caribbean North.
Honorable Michael Halkitis, Minister of State for Finance; Anthony Allen, Board Chairman, Scotiabank; and Albert cut a special anniversary cake to mark the occasion. Some of the Bank's original customers who have spent upwards to 6 decades with the Bank were recognized at the reception where The Bahamas National Children's Choir performed under the directorship of Dr. Patricia Bazard.
The 60th Anniversary celebrations continue with a Church Service; Customer Appreciation events; Employee Family Fun Day; Health & Wellness Fair; Fun, Run, Walk; and community project.
About Scotiabank in The Bahamas:

As Canada's most international bank, Scotiabank has been operating in The Bahamas for 60 years, since opening its first small branch in Nassau in 1956. The following year, Bank of Nova Scotia Trust Company (Bahamas) Limited – Scotiabank's Bahamas Wealth Management offering – was established in The Bahamas.
Scotia Wealth Management is a leading international wealth management firm here in The Bahamas. Our clients are in over 20 countries and our Bahamas-based team supports some of the best clients of our corporate and commercial bank and global banking and markets businesses globally.
Over the years, Scotiabank has evolved into a network of 13 branches and 69 ATMs across the country, providing a complete range of retail, commercial and wealth products and services — including online banking, electronic cash management, and offshore banking services to individuals and businesses.
Scotiabank is committed to being The Bahamas' financial institution of choice by providing comprehensive financial services to individuals and businesses, and being a good corporate citizen by helping young people in the community become better off. Each year, Scotiabank's community donations and sponsorships exceed $300,000 while employees spend over 3,000 cumulative hours volunteering their time and energy to charitable causes.
Scotiabank is Canada's international bank and a leading financial services provider in North America, Latin America, the Caribbean and Central America, and Asia-Pacific. We are dedicated to helping our 23 million customers become better off through a broad range of advice, products and services, including personal and commercial banking, wealth management and private banking, corporate and investment banking, and capital markets. With a team of more than 89,000 employees and assets of $895 billion (as at April 30, 2016), Scotiabank trades on the Toronto (TSX: BNS) and New York Exchanges (NYSE: BNS).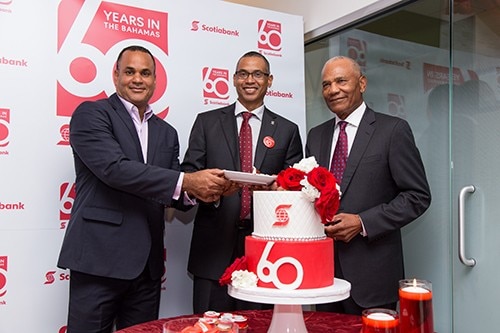 Cake cutting - (l to r) Honorable Michael Halkitis, Minister of State for Finance; Sean Albert, VP & District Head, Caribbean North, Scotiabank; and Anthony Allen, Chairman, Board of Directors, Scotiabank cut the 60th anniversary cake in Main Branch during the launch event. Celebrations continue for 60 days.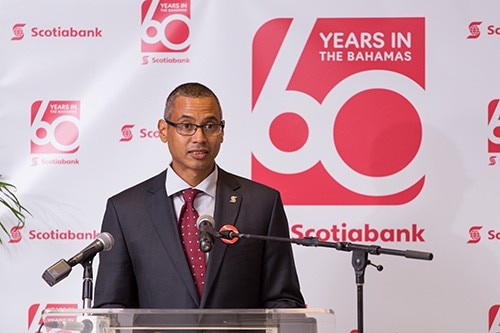 Remarks - Sean Albert, VP & District Head, Caribbean North, Scotiabank highlights the Bank's journey in The Bahamas which began with a small Downtown branch in 1956.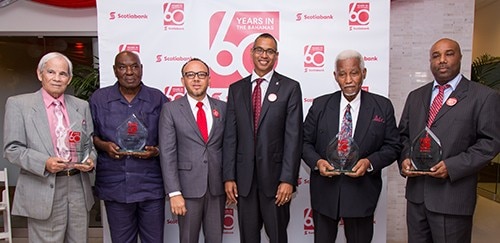 Long-standing customers – (l to r) Thomas Treco and Ronald Collie, two of the original customers; Dwight Burrows, Director, Retail Banking, Scotiabank; Sean Albert, VP & District Head, Caribbean North, Scotiabank; customers, Cecil P. Wallace and Kevin McKinney (receiving on behalf of his father, Henry) at the 60th Anniversary Launch Event.