FIFA Beach Soccer World Cup Bahamas 2017
NEWS FROM SCOTIABANK (BAHAMAS) LTD.
For Immediate Release

SCOTIABANK (BAHAMAS) LTD. SUPPORTS INTERNATIONAL BEACH SOCCER

The Bank is a National Supporter of FIFA Beach Soccer World Cup Bahamas 2017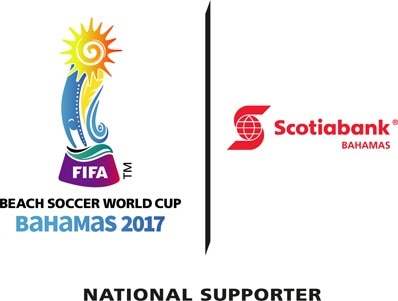 NASSAU, THE BAHAMAS, April 26, 2017 – Scotiabank (Bahamas) Limited is a proud National Supporter of The FIFA Beach Soccer World Cup Bahamas 2017 which begins tomorrow, and runs through to Sunday, May 7.
"Our customers and employees are becoming passionate beach soccer fans as the sport quickly grows in popularity within our community," said Maxine Seymour, Scotiabank's Manager of Sponsorships and Philanthropy.
"Scotiabank is a strong supporter of sports here in The Bahamas and across our global footprint and is the Official Bank of CONCACAF," Seymour continued. "With the construction of a new, world class, beach soccer stadium here in our country and hosting of this distinguished international event, we look forward to deepening our soccer involvement. Best wishes to all the countries competing, especially Team Bahamas."
The 2017 FIFA Beach Soccer World Cup is the ninth edition of the FIFA Beach Soccer World Cup, the premier international beach soccer championship contested by the men's national teams of the member associations of FIFA. This is the first time the FIFA Beach Soccer World Cup has been hosted in the Caribbean.
Scotiabank is Canada's international bank and a leading financial services provider in North America, Latin America, the Caribbean and Central America, and Asia-Pacific. We are dedicated to helping our 23 million customers become better off through a broad range of advice, products and services, including personal and commercial banking, wealth management and private banking, corporate and investment banking, and capital markets. With a team of more than 88,000 employees and assets of $887 billion (as at January 31, 2017), Scotiabank trades on the Toronto (TSX: BNS) and New York Exchanges (NYSE: BNS). For more information, please visit www.scotiabank.com and follow us on Twitter @ScotiabankViews.

About Scotiabank in The Bahamas
As Canada's most international bank, Scotiabank opened its first small branch in Nassau in 1956. Over the years, Scotiabank has evolved into a network of 13 branches and 69 ATMs across the country, providing a complete range of retail, commercial and wealth products and services — including online banking, electronic cash management, and offshore banking services to individuals and businesses.
Scotiabank is committed to being The Bahamas' financial institution of choice by providing comprehensive financial services to individuals and businesses, and being a good corporate citizen by helping young people in the community become better off. Each year, Scotiabank's community donations and sponsorships exceed $300,000 while employees spend over 3,000 cumulative hours volunteering their time and energy to charitable causes in the country.
Bank of Nova Scotia Trust Company (Bahamas) Limited – Scotiabank's Wealth Management offering – was established in The Bahamas in 1957.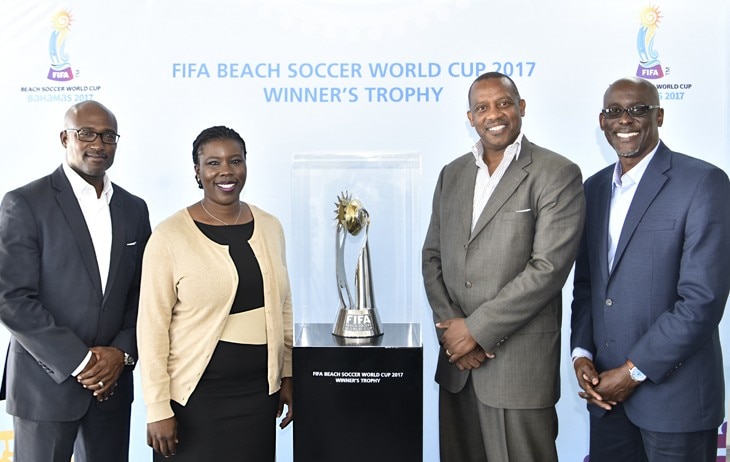 Pictured with the official trophy at The Bahamas National Beach Soccer Arena at Malcolm Park (l to r): Bruce LaFleur, Director of Venue Development; Maxine Seymour, Manager, Public & Corporate Affairs, Sponsorships & Philanthropy, Scotiabank; Anton Sealey, President, Bahamas Football Association; and Jeffrey Beckles, Chairman, Local Organizing Committee. The trophy will leave The Bahamas with the winning team in a matter of days.
For further information, please contact:
Maxine Seymour
Manager, Public & Corporate Affairs, Sponsorships & Philanthropy
t: (242) 356-1446
f: (242) 356-1601
e: maxine.seymour@scotiabank.com