Mortgage Seminar Series A Hit
SCOTIABANK HOSTS MORTGAGE SEMINAR SERIES

Nassau, The Bahamas, August 1, 2017 – Scotiabank hosted the first of two mortgage seminars on July 26th to a packed house at the Thompson Blvd branch. Eager attendees were afforded an opportunity to hear from the dynamic panel of experts from the real estate, law, appraisal and land surveying fields as they shared their wealth of knowledge and answered audience questions.
"We know customers have questions and the number of persons who attended the seminar speaks to that." Commented Sandevar Sandi, Scotiabank Thompson Boulevard Branch Manager, "Scotiabank is an advocate for providing customers with not only the tools to make them better off but also the banking advice that helps them take advantage of what we can offer. These seminars are one avenue Scotiabank is using to share this knowledge."
The event kicked off at 6 PM and also featured Scotiabank representatives who gave insight into the vast subject of mortgages, including the process for new and switch mortgage customers. Amongst the plethora of information shared was a discussion on the changes to the first time home owner VAT & stamp duty exemptions. After the formal seminar concluded, attendees got a chance to speak with the panellists along with Scotiabank Banking Officers one on one.
"A mortgage is not a one off investment, it's a substantial milestone which must grow and change with your needs." Said Nakera Symonette, Scotiabank Senior Manager of Marketing and Public Relations for Caribbean North. "These seminars are an opportunity for anyone with a mortgage or looking to get a mortgage to obtain valuable information and contacts. If you've been hesitant about coming in to speak with someone or just haven't had the time, these seminars are a no pressure environment to get the answers you need without asking a single question."
Three lucky guests also walked away with door prizes. The prizes included a home security system and 1-month surveillance from Sure Tech, a $300 home appraisal from TR Associates Limited and 6 months of floral arrangements from Kandice Hanna of KVRH.
The second and final seminar in the series will take place on Thursday, August 3rd in the East Bay Street branch at 6 PM. Persons interested in attending are encouraged to RSVP via rachael.allahar@scotiabank.com as space is limited.
Scotiabank is Canada's international bank and a leading financial services provider in North America, Latin America, the Caribbean and Central America, and Asia-Pacific. We are dedicated to helping our 23 million customers become better off through a broad range of advice, products and services, including personal and commercial banking, wealth management and private banking, corporate and investment banking, and capital markets. With a team of more than 88,000 employees and assets of $887 billion (as at January 31, 2017), Scotiabank trades on the Toronto (TSX: BNS) and New York Exchanges (NYSE: BNS). For more information, please visit bs.scotiabank.com and follow us on Facebook & Twitter @ScotiabankBS.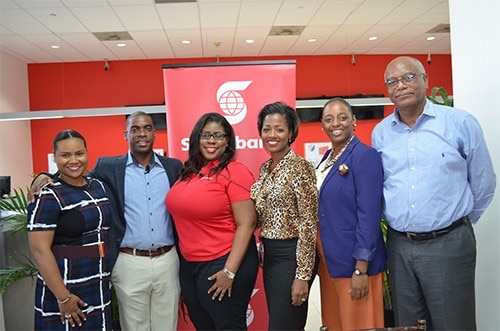 (L-R) Seminar Panellists Shannelle Bethell, Founding Member of Mitre Court, Carlyle Bethel, Licensed Broker, Ava Dean, Scotiabank Personal banking Officer, Nakera Symonette, Scotiabank Snr. Marketing Mgr., Ambrosine Huyler, Scotiabank Snr. Corporate and Legal Services Mgr., & Donald Thompson, Member of the Land Surveyor's Board.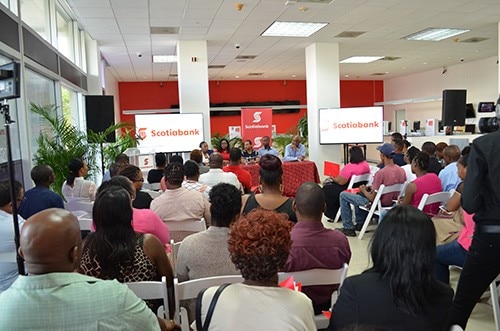 A full house at Scotiabank Thompson Blvd as guests listen at the Mortgage Seminar Series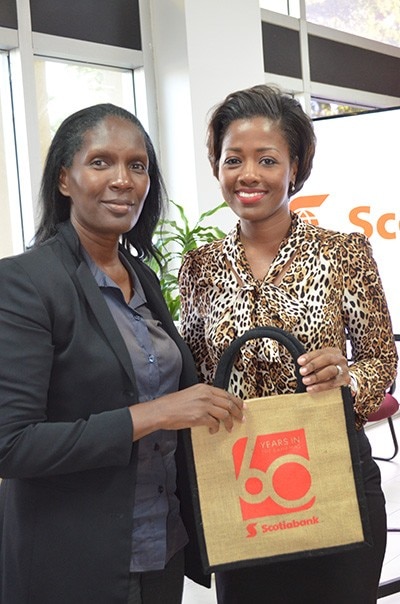 (L-R) Door prize winner Catherine Pinder receiving gift from Nakera Symonette, Scotiabank Snr. Marketing Mgr.
(L-R) Door prize winner Lincoln Russell receiving gift from Nakera Symonette, Scotiabank Snr. Marketing Mgr.
Further information: 
Rachael Allahar
Manager – Marketing Programs
Scotiabank (Bahamas) Limited 
t: (242) 356-1684
e: Rachael.allahar@scotiabank.com