Scotiabank Sponsors Marathon Bahamas / Susan G. Komen Bahamas Race for the Cure
Bank is Silver Partner of Marathon Bahamas / Susan G. Komen Bahamas Race for the Cure

Nassau, The Bahamas, January 8, 2018 – Scotiabank is a silver, corporate partner for Sunshine Insurance Race Weekend 2018. The Bank has supported the annual event, inclusive of Marathon Bahamas and the Susan G. Komen Bahamas Race for the Cure since inception.
In 2013, Scotiabank became the lead partner for the Students Run Marathon Bahamas initiative which provides an opportunity for distance running student athletes to participate in the relay component of Marathon Bahamas.
"We are excited to continue our sponsorship of Race Weekend, particularly the Students Run which aligns with our global social responsibility platform focusing on, Young People in the Community," said Nakera Symonette, Senior Manager of Marketing and Public Relations at Scotiabank.
"Marathon Bahamas and the 5K Susan G. Komen Bahamas Race for the Cure make significant contributions to local nonprofit organizations in the fight against cancer while boosting tourism and the local economy." According to Symonette, "This is a productive partnership that makes us proud."
Race Weekend is scheduled for this coming Saturday and Sunday, January 13 and 14.
"Our employee volunteers look forward to Komen each year," said Maxine Seymour, Manager of Sponsorships and Philanthropy. "Some of us will be participating in the race while others will be at the Race Village to greet participants as they cross the finish line on Paradise Island. We will be at the finish line to cheer on the student athletes on Sunday as well," Seymour continued.
At Scotiabank, we aim to support organizations that are committed to helping young people reach their infinite potential. Young people are our future leaders and Scotiabank's goal is to help ensure that they have the necessary skills and resources they need to support their success. Together with our employees, the Bank supports causes at a grassroots level. Recognized as a leader for our charitable donations and philanthropic activities, in 2017, Scotiabank contributed more than $80 million to help our communities around the world.
Scotiabank is Canada's international bank and a leading financial services provider in North America, Latin America, the Caribbean and Central America, and Asia-Pacific. We are dedicated to helping our 24 million customers become better off through a broad range of advice, products and services, including personal and commercial banking, wealth management and private banking, corporate and investment banking, and capital markets. With a team of more than 88,000 employees and assets of over $915 billion (as at October 31, 2017), Scotiabank trades on the Toronto (TSX: BNS) and New York Exchanges (NYSE: BNS). For more information, please visit www.scotiabank.com and follow us on Twitter @Scotiabank.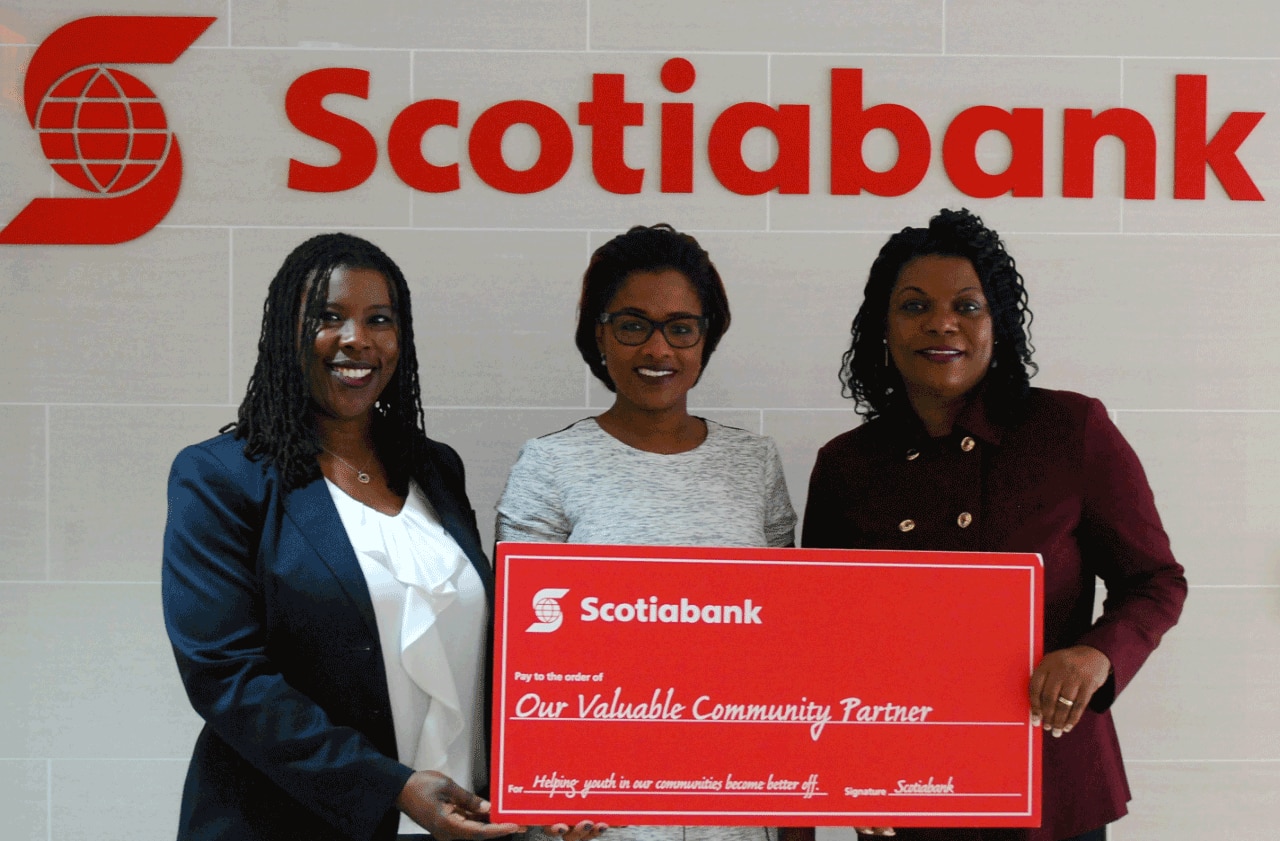 Pictured (L to R): Maxine Seymour, Manager, Public & Corporate Affairs, Sponsorships & Philanthropy; and Nakera Symonette, Senior Manager, Marketing & Public Relations, Scotiabank Caribbean North present the sponsorship cheque to Janet Serrette, Branch Manager, Sunshine Insurance, Blue Hill Road Office.
 
For further information, please contact: 
Maxine Seymour 
Manager Public & Corporate Affairs, Sponsorships & Philanthropy 
T: (242) 356-1446 
F: (242) 356-1601
e: maxine.seymour@scotiabank.com