Scotiabank commits $50,000 to support Hands for Hunger Programmes
-Bank to headline as "presenting sponsor" for the return of Paradise Plates fundraiser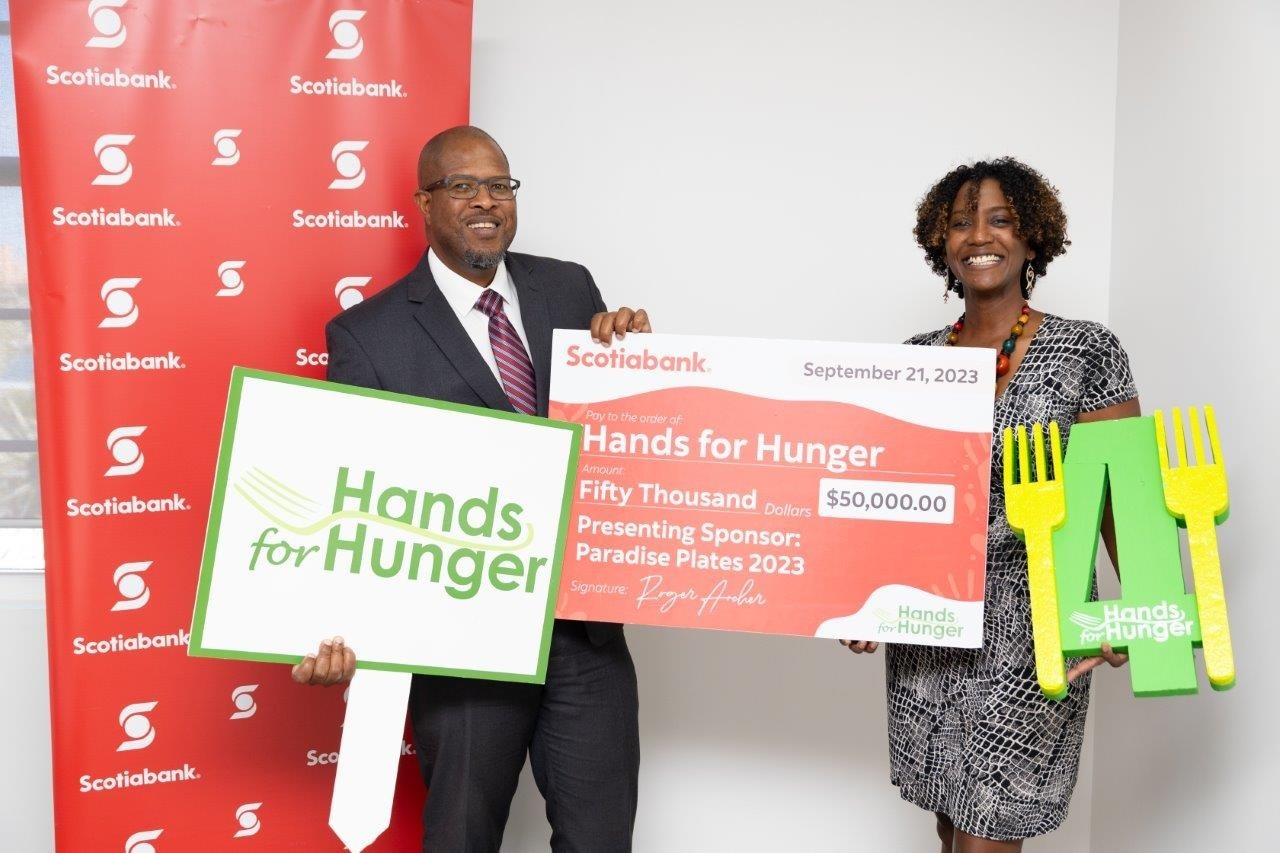 New Providence, The Bahamas– September 26, 2023 - Scotiabank has signed on as the presenting sponsor for the return of the signature culinary fundraising event, "Paradise Plates", which takes place next weekend at the Atlantis Hotel on Paradise Island. The Bank, which has been a longstanding partner of Hands for Hunger has provided sponsorship in the amount of $50,000 to ensure the 2023 staging of the event which was paused for three years due to the global pandemic.
With tickets now virtually sold out, more than 1,500 guests are expected to converge as the nation's most gifted chefs and beverage purveyors tantalise palates while aiming to raise US$500,000 to combat food insecurity in The Bahamas. Funds raised from the event will go directly to the stocking of Hands for Hunger's pantry, as well as to maintain its food rescue mobilisation crews and expand its programmes.
Commenting on the decision to sponsor the charity for another year, Scotiabank Managing Director, Roger Archer said "driving resilience in our communities and providing support for the most vulnerable in our society is a key focus across all our operations. We want to ensure that every person has what they need to thrive, to take care of their families and to build our country for the future." Archer also noted the commitment of the Bank and staff to supporting the work done by the organization through volunteerism.
Keisha Ellis, Executive Director of Hands for Hunger, saluted Scotiabank for its sterling work in the past and for coming on board after the pandemic. She said that the humanitarian organisation was grateful to its sponsors for supporting its programmes.
"This partnership is key to us achieving our stated mission that no one in The Bahamas should go hungry," Ellis said.
Since 2008, the charity has provided more than two million meals to Bahamians through its food rescue programme and through its advocacy has prevented 5,000-plus carbon dioxide emissions from entering Earth's atmosphere.
Founded by a group of Bahamian student leaders in 2008, the non-profit organisation aims to ensure that everyone in the archipelago has access to three nutritious and fortifying meals each day. The organisation has also sought to encourage the reduction of food waste in a bid to secure Bahamas' food security.