Scotiabank assists The Bahamas Humane Society
SCOTIABANK IS FEISTY FELINE SPONSOR

Nassau, The Bahamas, October 20, 2015 – Scotiabank is pleased to announce its sponsorship of the 37th Annual Holiday Luncheon & Fashion Show in aid of the Bahamas Humane Society. Today the Bank signed on as a Feisty Feline Sponsor of the event.
"Scotiabank is pleased to support The Bahamas Humane Society by sponsoring this yearly fund-raising event," said Leah Davis, Senior Manager of Marketing and Public Relations at Scotiabank.
The exquisite holiday luncheon and fashion show, organized by Cole's of Nassau and Morley for Men, is scheduled for Tuesday, November 24 at 1:00 in the afternoon at the British Colonial Hilton, number one Bay Street. Complimentary cocktails begin at noon.
About Bahamas Humane Society

The Bahamas Humane Society is a non-profit organization, comprised of a compassionate team, dedicated to promote the humane treatment of animal and prevent cruelty to animals through continuous education in a variety of methods, to end pet over-population through an aggressive spay/neuter campaign from 2013-2018 and as a result of the two objectives to become a no-kill shelter by 2020.
The BHS was founded in 1924 as the Dumb Friends' League, speaking for those who could not speak for themselves. By 1947, the name had changed to The Bahamas Humane Society. The BHS is Nassau's oldest charity; in 2014 it celebrated its 90th anniversary of service to The Bahamas. BHS receives only $15,000 in funding from the government each year, relying on donations, memberships and fundraising for the rest of its operating budget.
Through our global philanthropic program, Scotiabank and its employees support causes at a grassroots level. Recognized as a leader for our charitable donations and philanthropic activities, Scotiabank has contributed on average $55 million annually over the last five years to community causes around the world.
Scotiabank is Canada's international bank and a leading financial services provider in North America, Latin America, the Caribbean and Central America, and parts of Asia. We are dedicated to helping our 21 million customers become better off through a broad range of advice, products and services, including personal and commercial banking, wealth management and private banking, corporate and investment banking, and capital markets. With a team of more than 87,000 employees and assets of $863 billion (as at July 31, 2015), Scotiabank trades on the Toronto (TSX: BNS) and New York Exchanges (NYSE: BNS). Scotiabank distributes the Bank's media releases using Marketwired. For more information, please visit www.scotiabank.com and follow us on Twitter @ScotiabankNews.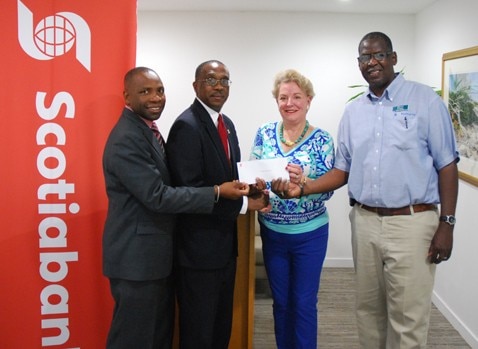 Pictured (L to R): Deno W. Moss, Senior Global Wealth Advisor, Scotiabank; Todd M. J. Beneby, Relationship Manager, Scotia Private Client Group present the sponsorship cheque to Diane Morley, Event Organizer and President of Coles of Nassau/Morley for Men; and Percy Grant, Shelter Manager, Bahamas Humane Society.
 
For further information, please contact: 
Maxine Seymour
Manager Public & Corporate Affairs, Sponsorships & Philanthropy 
t: (242) 356-1446
f: (242) 356-1601
e: maxine.seymour@scotiabank.com