Scotiabank Continues Sponsorship of the Bahamas National Trust Wine & Art Festival
Nassau, The Bahamas, November 3, 2016 – Scotiabank proudly sponsored the 26th annual Wine & Art festival last month, a dynamic event that is a key fundraising initiative by the Bahamas National Trust.
The Festival is an outlet for local artists to display and sell current work and interact with a broad audience. This year's festivities featured live demonstrations from painting to sewing, designed to provide engaging ways for visitors to learn about the Artists and their craft.
"The Bahamas National Trust is a beacon for local conservation and sustainability projects locally. This partnership with the Trust, for the fifth consecutive year, is an important contribution to Scotiabank's mission to engage our community," said Leah Davis, Senior Manager of Marketing and Public Relations at Scotiabank.
"Bettering our youth is a key focus for Scotiabank and the Wine & Art Festival offers a unique opportunity to do this," continued Davis. "Visitors are able to discover Bahamian talent, which is especially beneficial to young creatives who are trying to get their name out to the art aficionado community."
This year's event took place at The Retreat on Village Road from 12pm to 9pm on October 29th with Scotiabank volunteers managing the entry point. The bank also hosted clients in an exclusive lounge area during the Festivals Members Night on October 28th. 
Scotiabank is Canada's international bank and a leading financial services provider in North America, Latin America, the Caribbean and Central America, and Asia-Pacific. We are dedicated to helping our 23 million customers become better off through a broad range of advice, products and services, including personal and commercial banking, wealth management and private banking, corporate and investment banking, and capital markets. With a team of more than 89,000 employees and assets of $920 billion (as at January 31, 2016), Scotiabank trades on the Toronto (TSX: BNS) and New York Exchanges (NYSE: BNS). Scotiabank distributes the Bank's media releases using Marketwired. For more information, please visit www.scotiabank.com and follow us on Twitter @ScotiabankViews.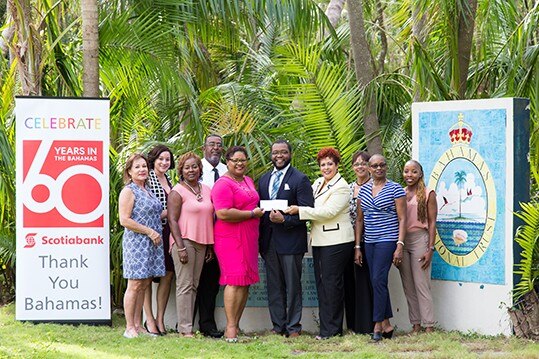 Pictured (L to R): Jane Evans, BNT Events Committee, Rachael Allahar, Scotiabank Marketing Manager, Barbara Hepburn, BNT Events Committee, Eric Carey, Exec. Director Bahamas National Trust, DeAnne Gibson, Co-Chair BNT Events Committee, Greg Stuart, Scotiabank Director Corporate & Commercial Banking, Jillian Ferreira, Chair BNT Events Committee, Turiea Carter, BNT Events Committee, Urmie Braynen, BNT Events Planner & Coordinator, Raquel Rolle, BNT Admin. Assistant (Not pictured: Giovanni Wilkinson, BNT Events Committee
 
For further information, please contact:
Leah R. Davis
Senior Manager - Marketing & PR
Scotiabank (Bahamas) Ltd.
t: (242) 356-1446
f: (242) 356-1601
e: leah.davis@scotiabank.com