Scotiabank Customer Travels to Rio, Courtesy of Visa
Prescola Davis and her Husband Attend Olympic Games

NASSAU, THE BAHAMAS, August 12, 2016– Scotiabank customer, Prescola Davis, is off to Rio along with her husband, courtesy of VISA. The couple leaves today for the 2016 Olympic Games.
Davis will enjoy a 4-day, 3-night trip for two to Rio de Janeiro, Brazil to attend the Rio 2016 Olympic Games. The trip which is valued at approximately $12,000 includes round-trip airline tickets for two with airport meet and greet; three nights' accommodation at the Windsor Atlantica Hotel with stunning views of the sea; Olympic event tickets; VISA Olympic-themed merchandise; a VISA Prepaid card; and ground transportation. The couple will also tour Sugarloaf by cable car to the top of the mountain to take in breathtaking panoramic views of Guanabara Bay and Rio de Janeiro.
Davis is Scotiabank's winner of a recently held credit card campaign in which she used her VISA for everyday purchases. Her name was selected by an automated random draw, completed by Scotiabank.
Scotiabank is Canada's international bank and a leading financial services provider in North America, Latin America, the Caribbean and Central America, and Asia-Pacific. We are dedicated to helping our 23 million customers become better off through a broad range of advice, products and services, including personal and commercial banking, wealth management and private banking, corporate and investment banking, and capital markets. With a team of more than 89,000 employees and assets of $895 billion (as at April 30, 2016), Scotiabank trades on the Toronto (TSX: BNS) and New York Exchanges (NYSE: BNS). Scotiabank distributes the Bank's media releases using Marketwired. For more information, please visit www.scotiabank.com and follow us on Twitter @ScotiabankViews.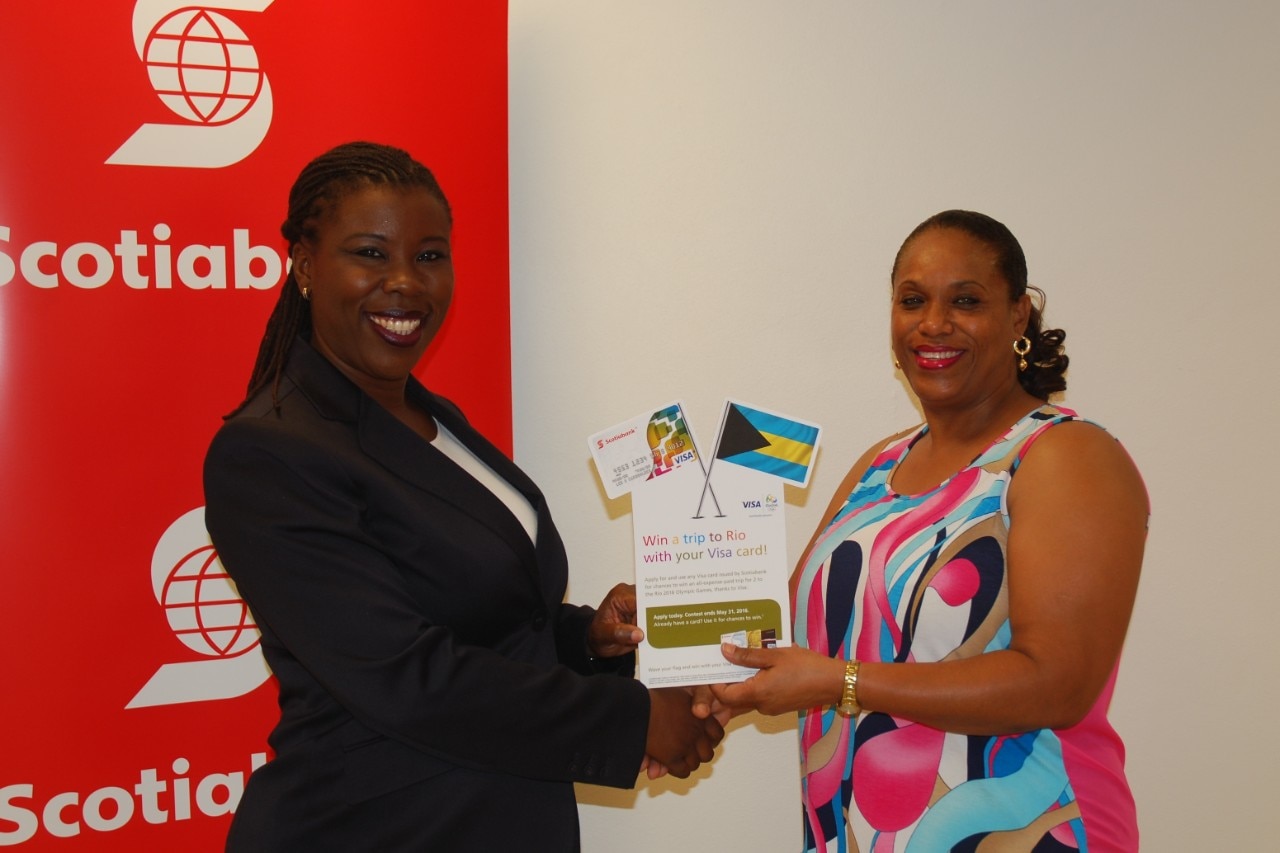 Pictured (L to R): Maxine Seymour, Manager, Public & Corporate Affairs, Scotiabank with Prescola Davis, grand prize winner.
 
For further information, please contact: 
Maxine Seymour
Manager, Public & Corporate Affairs, Sponsorships & Philanthropy 
T: 242.356.1475
F: 356–1601
E: maxine.seymour@scotiabank.com