Scotiabank Donates $50,000 to the Bahamas Red Cross
Nassau, The Bahamas, November 7, 2016 – Today Scotiabank made a $50,000 donation to The Bahamas Red Cross Society to help with Hurricane Matthew relief efforts.
"The Bahamas Red Cross plays a critical role in our society, particularly in the wake of disaster. We are proud to partner with the Red Cross as an active demonstration of our commitment to those impacted by Hurricane Matthew," said Leah Davis, Senior Manager of Marketing and Public Relations, Scotiabank.
The donation is a part of a global donation from Scotiabank of over $100,000 to support the relief efforts in the Caribbean following Hurricane Matthew
In addition to the $50,000 to The Bahamas Red Cross, Scotiabank has donated $50,000 to Doctors Without Borders and made a further donation to other local charities in Haiti to assist with the relief efforts following the devastation caused by Matthew.
"As we all know, Hurricane Matthew has had a tremendous impact on the people of The Bahamas, including our employees and customers," Davis continued.
"Scotiabank has been in the Caribbean for more than 125 years and in The Bahamas for 60 and we remain committed to supporting our communities as we work to rebuild," Davis concluded.
Scotiabank is Canada's international bank and a leading financial services provider in North America, Latin America, the Caribbean and Central America, and Asia-Pacific. We are dedicated to helping our 23 million customers become better off through a broad range of advice, products and services, including personal and commercial banking, wealth management and private banking, corporate and investment banking, and capital markets. With a team of more than 89,000 employees and assets of $920 billion (as at January 31, 2016), Scotiabank trades on the Toronto (TSX: BNS) and New York Exchanges (NYSE: BNS). Scotiabank distributes the Bank's media releases using Marketwired. For more information, please visit www.scotiabank.com and follow us on Twitter @ScotiabankViews.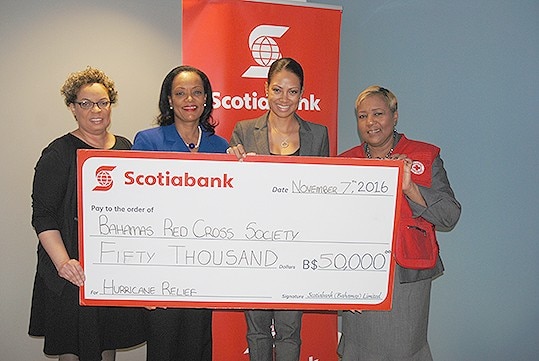 Pictured (L to R): Tanya Young, Director, Human Resources, Scotiabank; J. Nicola Farrington, Director Fiduciary Services, Scotia Wealth Management and Leah Davis, Senior Manager, Marketing & Public Relations, Scotiabank present to Caroline Turnquest, Director General, The Bahamas Red Cross Society.
 
For further information, please contact: 
Maxine Seymour
Manager Public & Corporate Affairs, Sponsorships & Philanthropy 
Marketing and Public Relations 
t: (242) 356-1446
f: (242) 356-1601
e: maxine.seymour@scotiabank.com