Scotiabank Helps Potential Entrepreneurs
SCOTIABANK SPONSORS PROFESSIONAL DEVELOPMENT COURSES AT BTVI

Nassau, The Bahamas, November 27, 2015 – Scotiabank is providing scholarships for students to attend The Bahamas Technical and Vocational Institute (BTVI ).
The Bank has partnered with BTVI to help several potential entrepreneurs pursue Professional Development Courses. The certificate programs range from ten to fifteen weeks and are offered in business, beauty, construction, and fashion trades; auto mechanics; marine engine; and information technology; among other disciplines.
"Scotiabank has always had a strong commitment to education, and is proud to partner with BTVI. In an increasingly competitive global marketplace, it is important to ensure that we are providing students with the tools and techniques to keep pace with ever-changing technologies," said Leah Davis, Senior Manager, Marketing and Public Relations at Scotiabank.
The first technical school in The Bahamas was opened on October 4th, 1949. Over the years, the name of the institute changed numerous times. Today it is called, The Bahamas Technical and Vocational Institute (BTVI). BTVI delivers occupational training to a diverse student population representing young high school graduates, non-completers, mature students and persons with varied academic backgrounds, training requirements and interests.
There are two campuses- the main campus in Nassau and a satellite campus on the island of Grand Bahama. The Nassau campus has twenty-six workshops and laboratories and seventeen classrooms which has the capacity of serving a population of up to 1500 students in its full-time and part-time programmes. The Freeport campus houses seven workshops, three laboratories and one classroom, can accommodate up to 400 students. http://www.btvi.org.bs
Scotiabank is Canada's international bank and a leading financial services provider in North America, Latin America, the Caribbean and Central America, and parts of Asia. We are dedicated to helping our 21 million customers become better off through a broad range of advice, products and services, including personal and commercial banking, wealth management and private banking, corporate and investment banking, and capital markets. With a team of more than 87,000 employees and assets of $863 billion (as at July 31, 2015), Scotiabank trades on the Toronto (TSX: BNS) and New York Exchanges (NYSE: BNS).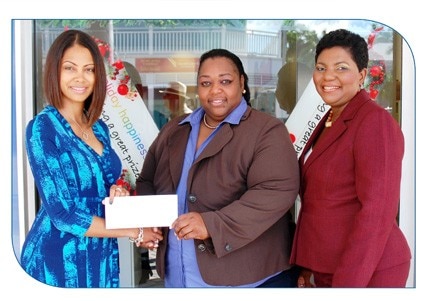 Pictured (L to R): Leah Davis, Scotiabank's Senior Manager of Marketing and Public Relations presents the Bank's contribution to BTVI's Ushieka King, Recruitment Officer and Alicia Thompson, Assistant Vice President of Fund Development.
 
For further information, please contact: 
Maxine Seymour
Manager Public & Corporate Affairs, Sponsorships & Philanthropy 
t: (242) 356-1446
f: (242) 356-1601
e: maxine.seymour@scotiabank.com