Scotiabank Freeport Hosts Client Reception
Freeport, The Bahamas, May 19, 2015 – Scotiabank's Corporate and Commercial Banking (CCBC) team recently hosted a cocktail reception for key clients and industry partners at the branch in Regent Centre, Freeport.
The branch came alive, after closure, for a memorable evening filled with networking, scrumptious cuisine and smooth jazz sounds by popular local band, Phase Four.
Sean Albert, Managing Director of Scotiabank in The Bahamas, was on hand for the special occasion. Highlighting that Scotiabank has been a part of the Bahamian community for almost 60 years, Albert for gave a brief history of the Bank, which has a presence in over 55 countries. "Scotiabank is Canada's most international bank. We are dedicated to helping our 21 million customers become financially better off."
"The recently renovated Freeport Branch is one of many around the world to offer an enhanced customer experience with an improved branch layout. I met with the management team at this contemporary branch here in Freeport, including its new manager, Bruno Styles. The team is committed to deepening our relationships with our clients as we work together," Albert continued.
"Our products are designed to simplify cash operations, maximize banking efficiency and provide savings solutions to help meet business goals," said Greg Stuart, Group Head, CCBC. "We have a dedicated Client Relationship Manager stationed in Freeport who is equipped to provide tailored financial solutions. From corporate and investment banking services to mid-sized business solutions, our team of professionals will work with our clients to help understand their specific business needs in order to deliver flexible, customized financial solutions to help them achieve their goals."
Client Relationship Manager in Freeport, Adrian Carey, encouraged clients to express their views and have open honest conversations about their expectations. "Community feedback is imperative. It will help make our bank even better," said Carey.
Last year, Scotiabank's Freeport branch underwent a major renovation transforming it into a modern, state-of-the-art facility offering retail, commercial and cash management services to individuals, small and medium‐size businesses and corporations. Newly appointed branch manager, Bruno Styles, pledges a customer service experience as magnificent as the branch itself. The branch is equipped for access by persons with disabilities and offers five automated banking machines – one of them with drive-thru access for motorists.
Styles commented on the Bank's corporate and commercial services, "The depth of our professionals' financial expertise, combined with our commitment to anticipate an organization's unique opportunities and challenges, has allowed Scotiabank to become one of the world's leading financial institutions."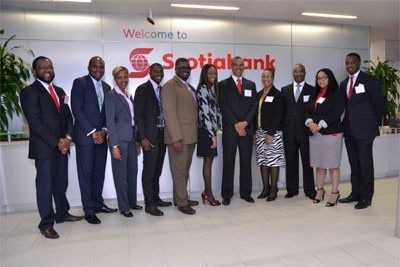 Scotiabank Executives with Freeport Management Team
Managing Director, Sean Albert, travelled to Freeport to officially welcome the new branch and client relationship managers at a client reception. Pictured left to right are Gregory Stuart, Group Head, Corporate and Commercial Banking; Keith Beneby, Senior Client Relationship Manager; Keva Ryan, Manager of Service & Support; Daquan Swain, Trainee Personal Banking Officer; Alessandro Major, Senior Teller; Davonia Archer, Business Banking Manager; Sean Albert, Managing Director; Natasha Russell, Personal Banking Manager; Bruno Styles, Branch Manager; April Bartlette, Personal Banking Officer; Adrian Carey, Client Relationship Manager.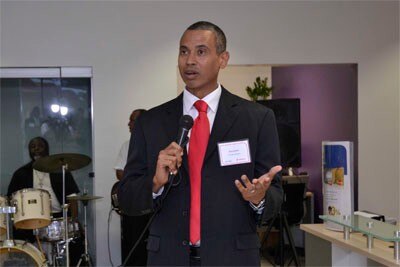 Scotiabank Managing Director, Sean Albert, Brings Remarks 
Albert expressed appreciation to the Grand Bahamian market. Scotiabank has had a presence in The Bahamas for almost 60 years and has served the Freeport community for 50 years since opening in Freeport in 1965.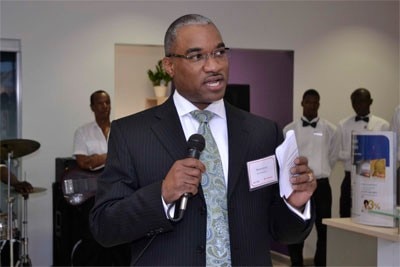 Scotiabank, Freeport Branch Welcomes New Branch Manager, Bruno Styles
Styles, from Nassau, recently moved to Freeport. Excited about the move, he greeted clients and noted how much he already likes the second city's tranquillity.