Scotiabank Funds Scholarship
Outstanding Primary School Student to be Awarded (sub-title)

Nassau, The Bahamas, April 11, 2018 - Scotiabank is a patron sponsor of The Bahamas Primary School Student of the Year Foundation, funding a scholarship for one of the grade six nominees.
"At Scotiabank, we are committed to providing opportunities that help young persons in our community become better off. The Student of the Year Awards programme is an excellent way to recognize primary school students who have demonstrated academic brilliance," said Nakera Symonette, Senior Manager, Marketing & Public Relations, Scotiabank Caribbean North. "All the best to this year's nominees."
Students from public and private schools throughout The Bahamas will be celebrated during the annual Bahamas Student of the Year Awards ceremony on Saturday, May 19 at Golden Gates World Outreach Ministries.
At Scotiabank, we aim to support organizations that are committed to helping young people reach their infinite potential. Young people are our future leaders and Scotiabank's goal is to help ensure that they have the necessary skills and resources they need to support their success. Together with our employees, the Bank supports causes at a grassroots level. Recognized as a leader for our charitable donations and philanthropic activities, in 2017, Scotiabank contributed more than $80 million to help our communities around the world.
Scotiabank is Canada's international bank and a leading financial services provider in North America, Latin America, the Caribbean and Central America, and Asia-Pacific. We are dedicated to helping our 24 million customers become better off through a broad range of advice, products and services, including personal and commercial banking, wealth management and private banking, corporate and investment banking, and capital markets. With a team of more than 88,000 employees and assets of over $915 billion (as at October 31, 2017), Scotiabank trades on the Toronto (TSX: BNS) and New York Exchanges (NYSE: BNS). For more information, please visit www.scotiabank.com and follow us on Twitter @Scotiabank.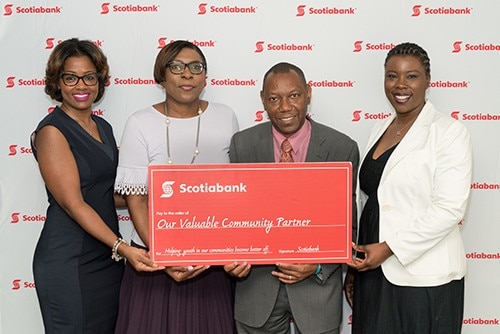 Pictured l to r: Nakera Symonette, Senior Manager, Marketing & Public Relations, Scotiabank Caribbean North; Robin Scavella, Director, Legal & Corporate Secretary, Scotiabank Caribbean North; Ricardo P. Deveaux, President & CEO, Bahamas Primary School Student of the Year Foundation; and Maxine Seymour, Manager, Public & Corporate Affairs, Sponsorships & Philanthropy, Scotiabank.


For further information, please contact: 
Maxine Seymour
Manager Public & Corporate Affairs, Sponsorships & Philanthropy 
t: (242) 356-1446
f: (242) 356-1601
e: maxine.seymour@scotiabank.com