Scotiabank Hosts 'Drive and Win' Auto Fair
Nassau, The Bahamas, April 11, 2017 – On Saturday past, Scotiabank hosted a 'Drive & Win' mega auto fair in Rawson Square. The festivities were in celebration of the 'Drive & Win' auto campaign which offers qualifying customers a chance to win up to 6 months waived payments. The event showcased vehicles from 6 dealerships including Tyreflex Star Motors, Holiday Motors, Quality Auto Sales, Nassau Motor Company, Executive Motors and Bahamas Bus & Truck.
Dubbed as the fair in the square, the auto fair was a one stop shop for auto needs. Insurance agents from J.S. Johnson and NUA were on hand to provide on the spot insurance quotations and the dealership representatives were able to offer special one-day-only pricing. Starting at noon, Rawson Square was the pulse of Bay Street with a live DJ and wide selection of vehicles on display including the latest models from Mercedes, VW, Dodge, Jeep, Honda, Toyota and Hyundai. The kiddie's corner with face painting and treats made it a family affair.
Loan officers from Scotiabank were also available to qualify persons for auto loans and answer all questions on the financing process. Although the day was focused on the auto fair, the Scotiabank 3.99% mortgage rate was still a hot topic. Loan officers were readily available to walk attendees through the mortgage process and explain how Scotiabank can offer the lowest interest rates to new and switch mortgage customers.
The 'Drive & Win' auto campaign is available at all Scotiabank locations until April 30, 2017. Persons who qualify for an auto loan during this period will enjoy rates as low as 4.99% and automatically win their first month's loan payment. All approved loans are also entered to win 1 of 4 prizes: 3 prizes of 3 months loan payments waived and 1 grand prize of 6 months payments waived. For more information, stop by your nearest Scotiabank branch or visit bs.scotiabank.com/driveandwin.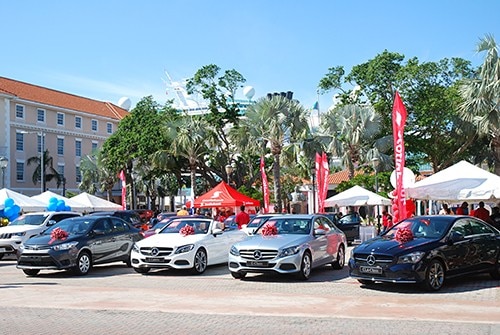 Scotiabanks 'Drive & Win' Auto Fair in Rawson Square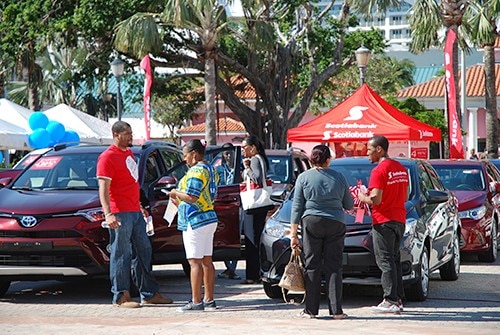 Scotiabank Loan Officers speaking with attendees during the Auto Fair in Rawson Square

Scotiabank is Canada's international bank and a leading financial services provider in North America, Latin America, the Caribbean and Central America, and Asia-Pacific. We are dedicated to helping our 23 million customers become better off through a broad range of advice, products and services, including personal and commercial banking, wealth management and private banking, corporate and investment banking, and capital markets. With a team of more than 89,000 employees and assets of $920 billion (as at January 31, 2016), Scotiabank trades on the Toronto (TSX: BNS) and New York Exchanges (NYSE: BNS). Scotiabank distributes the Bank's media releases using Marketwired. For more information, please visit www.scotiabank.com and follow us on Twitter @ScotiabankViews.
For further information, please contact: 
Rachael Allahar
Manager – Marketing Programs
Scotiabank (Bahamas) Limited
t: (242) 356-1684
e: Rachael.allahar@scotiabank.com