Scotiabank  Sponsors 46th Annual Red Ribbon Ball
Nassau, The Bahamas, January 18, 2018 - Scotiabank is a proud gold sponsor of the 46th Annual Red Cross Ball, themed Code Red. The Ball is a major fundraiser in aid of the Society and its social outreach, disaster preparedness and emergency relief programmes.
"Scotiabank recognizes the importance of partnering with community organizations like The Bahamas Red Cross Society and have supported their efforts since we started operating in The Bahamas more than 60 years ago," said Nakera Symonette, Senior Manager, Marketing & Public Relations, Scotiabank Caribbean North.
For decades, the Bank has made significant monetary donations to the Red Cross; sponsored its Ball; and hosted the annual raffle launch outside the Main Branch on Bay Street; while employees volunteer to sell tickets at the fair. Scotiabank fully supports the Red Cross and its work.
"The Society is to be commended as it provides invaluable services, not only in times of disaster, but on an ongoing basis through its social outreach programmes many of which impact youth which is aligned with our global philanthropic focus," said Maxine Seymour, Manager, Public & Corporate Affairs, Sponsorships & Philanthropy.
The Red Cross Ball will be held, under the patronage of Her Excellency Dame Marguerite Pindling, GCMG, Governor-General, The Commonwealth of The Bahamas on Saturday, January 27, 2018 at 7 p.m. at the Baha Mar Convention Centre, Cable Beach. Tickets for the black-tie fundraiser are $275 each.
At Scotiabank, we aim to support organizations that are committed to helping young people reach their infinite potential. Young people are our future leaders and Scotiabank's goal is to help ensure that they have the necessary skills and resources they need to support their success. Together with our employees, the Bank supports causes at a grassroots level. Recognized as a leader for our charitable donations and philanthropic activities, in 2017, Scotiabank contributed more than $80 million to help our communities around the world.
Scotiabank is Canada's international bank and a leading financial services provider in North America, Latin America, the Caribbean and Central America, and Asia-Pacific. We are dedicated to helping our 24 million customers become better off through a broad range of advice, products and services, including personal and commercial banking, wealth management and private banking, corporate and investment banking, and capital markets. With a team of more than 88,000 employees and assets of over $915 billion (as at October 31, 2017), Scotiabank trades on the Toronto (TSX: BNS) and New York Exchanges (NYSE: BNS). For more information, please visit www.scotiabank.com and follow us on Twitter @Scotiabank.
About The Bahamas Red Cross Society
The Bahamas Red Cross Society is a humanitarian organization, responding to the needs of the most vulnerable in our communities. Its vision is to, effectively strengthen our National Society through coordinated and sustainable programs for the most vulnerable by helping to alleviate human suffering through training, empowerment and heightened awareness while focusing on increasing our resources.
The Red Cross serves the entire Commonwealth of The Bahamas, facing the challenges and lending a helping hand. Its mission is to, improve the lives of the most vulnerable, respond to national disasters in a timely manner and partner in the response to the social needs of our nation.
CODE RED (Pictured l to r) Gold Partners: Maxine Seymour, Manager, Public & Corporate Affairs, Sponsorships & Philanthropy; and Nakera Symonette, Senior Manager, Marketing & Public Relations, Scotiabank Caribbean North present the sponsorship cheque to Caroline Turnquest, Director General at The Bahamas Red Cross Society; Cyndi Williams-Rahming, Fundraising Chair of the Board of Directors & Chair of the Ball Committee; and Alicia Pinder, Disaster Officer.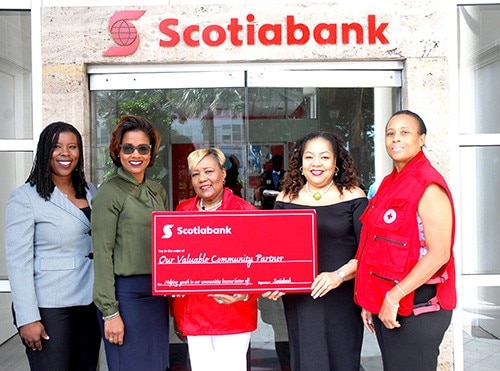 For further information, please contact: 
Maxine Seymour
Manager Public & Corporate Affairs, Sponsorships & Philanthropy 
t: (242) 356-1446
f: (242) 356-1601
e: maxine.seymour@scotiabank.com