Scotiabank is a platinum sponsor of the Heart Ball
Scotiabank is a platinum sponsor of the 52nd Annual Heart Ball

NASSAU, The Bahamas, February 9, 2016 – Scotiabank is a platinum sponsor of the Heart Ball in aid of the Sir Victor Sassoon (Bahamas) Heart Foundation, again this year.
"At Scotiabank, we want to help young persons in the community to become better off," said Leah R. Davis, Senior Manager of Marketing and Public Relations at Scotiabank. "We are partnering with the Sir Victor Sassoon (Bahamas) Heart Foundation as 97% of the funds raised at the Ball are used to assist children with congenital heart abnormalities."
The 52nd Annual Heart Ball is scheduled for this Saturday, February 13 in the Independence Ballroom at the Melia Nassau Beach Resort, Cable Beach.
February is nationally observed as Heart Month. On February 19, the Bank's employees will participate in Go Red Day by wearing red to bring awareness to cardiovascular disease and its risks. A donation will be made to The Bahamas Heart Association at that time.
Scotiabank is Canada's international bank and a leading financial services provider in North America, Latin America, the Caribbean and Central America, and parts of Asia. We are dedicated to helping our 23 million customers become better off through a broad range of advice, products and services, including personal and commercial banking, wealth management and private banking, corporate and investment banking, and capital markets. With a team of approximately 90,000 employees and assets of $856 billion (as at October 31, 2015), Scotiabank trades on the Toronto (TSX: BNS) and New York Exchanges (NYSE: BNS). Scotiabank distributes the Bank's media releases using Marketwired. For more information, please visit www.scotiabank.com and follow us on Twitter @ScotiabankNews.
About The Sir Victor Sassoon (Bahamas) Heart Foundation

The Sir Victor Sassoon (Bahamas) Heart Foundation is one of the most respected charitable organizations in the Bahamas. This privately funded charity raises funds primarily through donations and from the Annual Heart Ball, held each February. Through the lasting funding of Lady Sassoon, almost all of the overhead costs of the Foundation are donated. So benefactors can rest assured that their donations are going to assist our young patients. Over 97% of each dollar raised goes directly to the aid of the children. For over 50 years the Sassoon Heart Foundation has assisted more than 4,000 young Bahamians with heart ailments.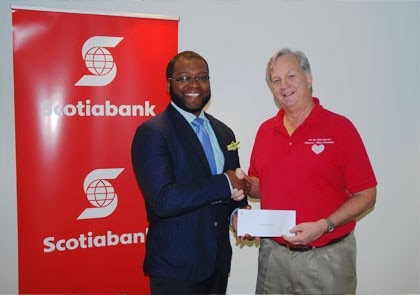 Pictured (L to R): Gregory Stuart, Group Head, Corporate and Commercial Banking, Scotiabank presents the sponsorship cheque to R. E. Barnes, Chairman, Sir Victor Sassoon (Bahamas) Heart Foundation.


For further information, please contact: 
Maxine Seymour
Manager Public & Corporate Affairs, Sponsorships & Philanthropy
Marketing and Public Relations 
t: (242) 356-1446
f: (242) 356-1601
e: maxine.seymour@scotiabank.com