Scotiabank Launches Red Cross Raffle
Nassau, The Bahamas, August 12, 2015 – Scotiabank partnered with The Bahamas Red Cross Society on Friday past (August 7) as Lady Igrid Darling launched the annual grand raffle outside Scotiabank's Main Branch on Bay Street.
"Scotiabank recognizes the importance of supporting the efforts of community organizations like The Bahamas Red Cross Society," said Leah R. Davis, Senior Manager of Marketing and Public Relations, Scotiabank. "The Red Cross provides invaluable services, not only in times of disaster, but on an ongoing basis through its social outreach programmes."
As is customary, Scotiabank's Davis purchased the first book of tickets to kick off sales, receiving books for distribution to the Bank's branches. The raffle drawing is scheduled for September 26 with the Red Cross hoping to raise money to assist with humanitarian services and disaster relief over the seven week sales period.
During the launch, a shiny, red 2015 Suzuki Swift was parked immediately in front of Scotiabank's Main Branch for onlookers to get a glimpse at the possibilities. The car, complete with a year's insurance, is the grand prize of 24 total winnings up for grabs in this year's raffle. A washer/dryer combo; round trip tickets for two; hotel stays and gift certificates are among other available prizes.
The Red Cross is one of the major emergency relief organizations in The Bahamas. The organization's raffle is an annual tradition aimed at generating funds. Lady Darling is a past president of the Red Cross and wife of former governor general, the late Sir Clifford Darling. Raffle tickets will be available for purchase at Scotiabank branches throughout New Providence at a cost of five dollars each.
About Scotiabank
Scotiabank is Canada's international bank and a leading financial services provider in North America, Latin America, the Caribbean and Central America, and parts of Asia. We are dedicated to helping our 21 million customers become better off through a broad range of advice, products and services, including personal and commercial banking, wealth management and private banking, corporate and investment banking. With a team of more than 86,000 employees and assets of CAD $852 billion (as at January 31, 2015), Scotiabank trades on the Toronto (TSX: BNS) and New York Exchanges (NYSE: BNS). For more information, please visit www.scotiabank.com and follow us on Twitter @ScotiabankNews.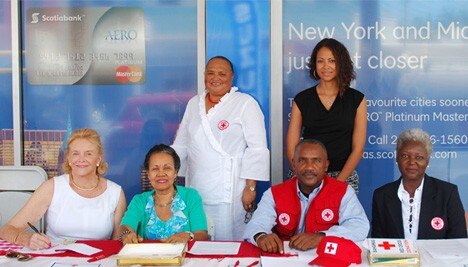 Pictured above: Leah R. Davis, Scotiabank's Senior Manager, Marketing and Public Relations with Bahamas Red Cross Executives and Supporters (l to r seated) Nancy Kelly; Lady Igrid Darling; Craig A. Gomez, President; Terez Curry, Deputy President (l to r standing) Viola Heastie-Knowles; and Scotiabank's Davis during the launch of the Annual Raffle, outside Scotiabank's Main Branch, Rawson Square. August 7, 2015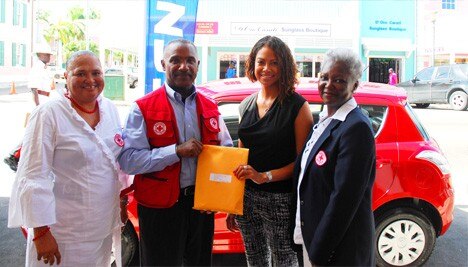 With the top prize – a brand new Suzuki Swift – in view, Leah R. Davis, Scotiabank's Senior Manager, Marketing and Public Relations receives tickets for distribution to Scotiabank's branches from Craig A. Gomez, Red Cross President as Viola Heastie-Knowles (l) and Terez Curry, Deputy President (r) look on. August 7, 2015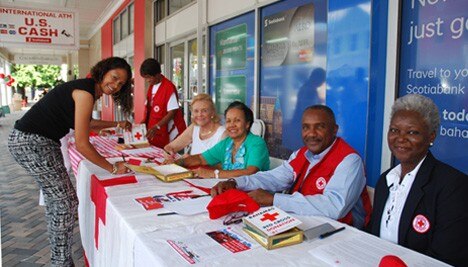 Leah R. Davis, Scotiabank's Senior Manager of Marketing and Public Relations purchases the first book of raffle tickets of The Bahamas Red Cross Society's 2015 Annual Grand Raffle. August 7, 2015


For further information, please contact:
Maxine Seymour
Manager Public & Corporate Affairs, Sponsorships & Philanthropy 
t: (242) 356-1446
f: (242) 356-1601
e: maxine.seymour@scotiabank.com