Scotiabank Regional Heads Visit The Bahamas
Nassau, The Bahamas, February 5, 2016 – During a recent visit to The Bahamas by Scotiabank's English Caribbean Region's executive team, Bruce Bowen the Bank's SVP for the region affirmed, "Over the 18 countries that Scotiabank operates in around the region, with 1.4 million customers, we have the largest customer base with a reputation for security in times of uncertainty."
At a reception with industry partners and clients, Bowen shared, "We have 125 years of local market knowledge with strong, centralized risk oversight and governance and a winning team of high performing employees with a wealth of experience and expertise."
Following a period of organizational change, he assured, "We have been here in The Bahamas for 60 years and remain committed to serving the market and giving back to the community. The Bank is well positioned to grow the business and to offer our customers an enhanced market leading experience with consistent excellent service."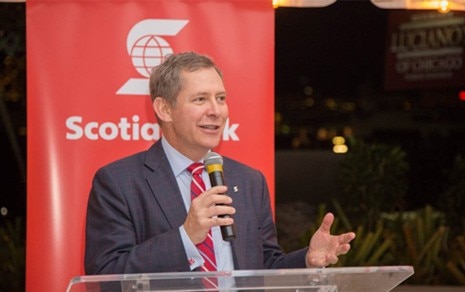 Above: Bruce Bowen, SVP for Scotiabank's English Caribbean Region, speaking at a recent client reception.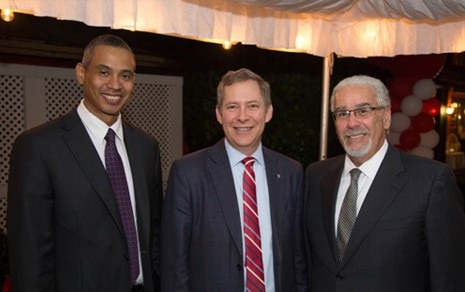 Above, standing L to R: Sean Albert, VP and Region Head for Scotiabank's Caribbean North District; Bruce Bowen, SVP for Scotiabank's English Caribbean Region; Brian Moree, Partner, McKinney, Bancroft & Hughes.
 
For further information, please contact: 
Leah Davis
Senior Manager
Marketing and Public Relations 
t: (242) 356-1475
f: (242) 376-5106
e: leah.davis@scotiabank.com