Scotiabank Sponsors 24th Annual Red Ribbon Ball
Nassau, The Bahamas, December 5, 2017 – Scotiabank remains committed to supporting the communities in which it operates. The Bank is a platinum sponsor of the 15th Annual Errol Brown's Children in Need at Christmas Golf Tournament.
"The Children in Need Charity continues to impact children living in The Bahamas in the most meaningful ways," said Nakera Symonette, Senior Manager of Marketing and Public Relations at Scotiabank. "We are proud supporters of the tournament as this partnership is aligned with Scotiabank's philanthropic focus, helping young persons become better off, allowing us to assist children in need during the festive holiday season."
Robert Pantry, Director of Retail Banking; Leroy Dames, Cable Beach Branch Manager; Sherman Armbrister, Thompson Boulevard Branch Manager; and Drexel Smith, GTB Product Specialist, Corporate & Commercial Banking Center are all preparing to play in the tournament which is scheduled for this coming Saturday, December 9, at 8:00 a.m. at The Ocean Club Golf Course, Paradise Island.
This will be the third tournament since the passing of founder and patron, Errol Brown, who died in 2015.
About Scotiabank
At Scotiabank, we aim to support organizations that are committed to helping young people reach their full potential. Young people are our future leaders and Scotiabank's goal is to help ensure that they have the necessary skills and resources they need to support their success. Together with our employees, the Bank supports causes at a grassroots level. Recognized as a leader for our charitable donations and philanthropic activities, in 2016, Scotiabank contributed more than $70 million to help our communities around the world.
Scotiabank is Canada's international bank and a leading financial services provider in North America, Latin America, the Caribbean and Central America, and Asia-Pacific. We are dedicated to helping our 24 million customers become better off through a broad range of advice, products and services, including personal and commercial banking, wealth management and private banking, corporate and investment banking, and capital markets. With a team of more than 88,000 employees and assets of over $906 billion (as at July 31, 2017), Scotiabank trades on the Toronto (TSX: BNS) and New York Exchanges (NYSE: BNS). For more information, please visit www.scotiabank.com and follow us on Twitter @ScotiabankViews.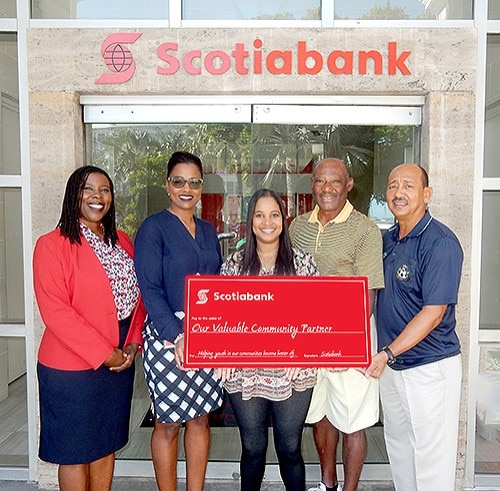 Pictured (L-R): Maxine Seymour, Manager, Public & Corporate Affairs, Sponsorships & Philanthropy; and Nakera Symonette, Senior Manager, Marketing & Public Relations, Scotiabank Caribbean North present the sponsorship cheque to Paul Major, Leonie Brown and Fred Lunn, Children in Need Committee Members.
 
For further information, please contact: 
Maxine Seymour
Manager Public & Corporate Affairs, Sponsorships & Philanthropy 
t: (242) 356-1446
f: (242) 356-1601
m: (242) 424-2957
e: maxine.seymour@scotiabank.com