Scotiabank Sponsors Baseball Team at JBLN for 5th Year
Scotiabank Phillies compete in Junior Division
Nassau, The Bahamas, January 25, 2016 – Scotiabank is proud to announce its support of the the Junior Baseball League of Nassau (JBLN), for a 5th consecutive year. In keeping with its commitment to youth in the community, the Bank is sponsoring the Phillies Junior Division baseball team – comprised of 13-15 year old players – again this season.
"Scotiabank maintains a strong commitment to youth in our community and is pleased to support these young baseball players in their pursuit of athletic excellence," said Maxine Seymour, Manager of Sponsorships and Philanthropy. "We wish the Phillies, and all other teams, every success this season as they develop good character and sportsmanship through participation in competitive baseball."
The 2016 season opened on Saturday, January 16 at the JBLN Field of Dreams. The Scotiabank Phillies will play their first game against the Mariners this coming Saturday, January 30 at 3:00p.m.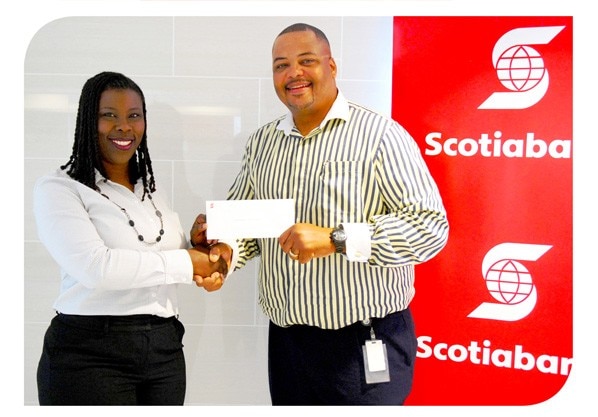 Pictured (L to R): Maxine Seymour, Manager Public & Corporate Affairs, Sponsorships & Philanthropy, Scotiabank presents the sponsorship cheque to Shane Albury, Director, JBLN Board of Directors.


For further information, please contact: 
Maxine Seymour
Manager Public & Corporate Affairs, Sponsorships & Philanthropy 
Marketing and Public Relations
t: (242) 356-1446
f: (242) 356-1601
e: maxine.seymour@scotiabank.com