Scotiabank Sponsors Flow Carifta Games Bahamas 2018
Nassau, The Bahamas, March 5, 2018 - The Bahamas will host this year's CARIFTA Games that brings together athletes from across the Caribbean where Scotiabank has strong roots and has been operating for over 125 years. 

Scotiabank (Bahamas) Limited is a proud silver sponsor of the Games, which are scheduled for March 30 through to April 2.
"We are excited to announce our partnership with organizers of this major track and field event which showcases young people from across the region," said Nakera Symonette, Senior Manager, Marketing & Public Relations, Scotiabank Caribbean North. "These athletes are our future leaders so I encourage the community to converge at the Thomas A. Robinson National Stadium in a massive show of support."
Symonette wished everyone competing the best of luck, especially Team Bahamas.
Scotiabank is Canada's international bank and a leading financial services provider in North America, Latin America, the Caribbean and Central America, and Asia-Pacific.
We are dedicated to helping our 24 million customers become better off through a broad range of advice, products and services, including personal and commercial banking, wealth management and private banking, corporate and investment banking, and capital markets. With a team of more than 88,000 employees and assets of over $915 billion (as at October 31, 2017), Scotiabank trades on the Toronto (TSX: BNS) and New York Exchanges (NYSE: BNS). 

For more information, please visit www.scotiabank.com and follow us on Twitter @Scotiabank.
The Bahamas will host the Games for the eighth time since it was started by the Caribbean Free Trade Association (CARIFTA) in 1972. Only countries associated with CARIFTA may compete and The Bahamas has won the Games four times – in 1980, 1981, 1983, and 1984.
This annual athletic competition brings together the best track and field athletes from 26 countries in the Caribbean, featuring some 500 athletes and 150 team officials. It consists of 65 track and field events, including sprint races, hurdles, middle distance track events, jumping and throwing events, and relays, in line with the International Association of Athletics Federations' (IAAF) guidelines for junior athletes. The games have two age categories – under 17 and under 20. The opening ceremony is on March 30 at 6:00 p.m. Competitive events will be held March 31 through April 2 / Event times: 9:00 a.m. - 12:00 p.m. & 4:00 p.m. - 9:00 p.m. (www.bahamas.com).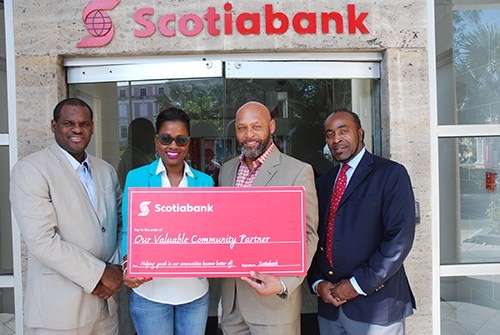 Pictured l to r: Robert Pantry, Director, Retail Banking and Nakera Symonette, Senior Manager, Marketing & Public Relations, Scotiabank Caribbean North along with Lionel Haven, Deputy CEO, CARIFTA Games 2018 and Ken Wilson, Fundraising Committee, CARIFTA Games 2018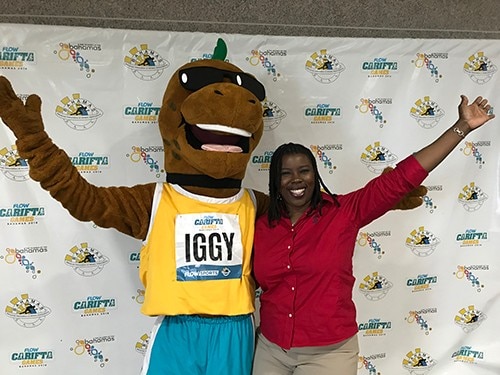 Maxine Seymour, Scotiabank's Manager of Public & Corporate Affairs, Sponsorships & Philanthropy at the stadium with Iggy the Iguana, Mascot for Flow CARIFTA Games Bahamas 2018

For further information, please contact: 
Maxine Seymour
Manager Public & Corporate Affairs, Sponsorships & Philanthropy 
t: (242) 356-1446
f: (242) 356-1601
e: maxine.seymour@scotiabank.com