SCOTIABANK SPONSORS HUGH CAMPBELL
Nassau, The Bahamas, February 4, 2016 - Scotiabank is a proud sponsor of the 34th Hugh Campbell Basketball Tournament for senior boys.
"We want to help youth in the community to become better off. Historically, the Hugh Campbell tournament has provided an outlet for young persons to display their athletic talent while working together in a competitive setting," said Leah Davis, Senior Manager of Marketing and Public Relations at Scotiabank.
"We wish all the teams best of luck as they continue to practice and prepare for this year's Classic which promises to be exciting," Davis continued.
The prestigious, highly anticipated event is scheduled for February 22 to 29, 2016 under the theme, "Perfecting Athleticism and Skills through Teamwork".
About Scotiabank
Scotiabank is Canada's international bank and a leading financial services provider in North America, Latin America, the Caribbean and Central America, and parts of Asia. We are dedicated to helping our 23 million customers become better off through a broad range of advice, products and services, including personal and commercial banking, wealth management and private banking, corporate and investment banking, and capital markets. With a team of approximately 90,000 employees and assets of $856 billion (as at October 31, 2015), Scotiabank trades on the Toronto (TSX: BNS) and New York Exchanges (NYSE: BNS). Scotiabank distributes the Bank's media releases using Marketwired. For more information, please visit www.scotiabank.com and follow us on Twitter @ScotiabankNews.
About Hugh Campbell Basketball Tournament
The Hugh Campbell Basketball "Classic" Tournament was established under the patronage of the late Hugh Campbell, the longest serving principal of A. F. Adderley (1961 – 1972). He left an incredible impression on the school and indeed the country at large.
In 2015, seven schools from the Government Secondary Schools Sports Association (GSSSA), seven from the Bahamas Association of Independent Secondary Schools (BAISS), three from the Small Schools Sports Association, six from the Family Islands, two out of the Turks and Caicos Islands and one from the Caribbean participated in the tournament.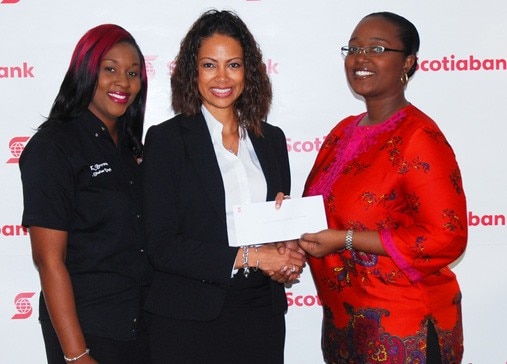 Pictured (L to R): Leah Davis, Senior Manager, Marketing and Public Relations at Scotiabank (centre) presents the Bank's sponsorship gift to Kelly Brown (left) and Sharell Edwards (right) of A.F. Adderley.
 
For further information, please contact: 
Maxine Seymour
Manager Public & Corporate Affairs, Sponsorships & Philanthropy 
t: (242) 356-1446
f: (242) 356-1601
e: maxine.seymour@scotiabank.com