Scotiabank Sponsors Paradise Plates
Funds Raised to aid Hands for Hunger
Nassau, The Bahamas, September 14, 2017 – Scotiabank is pleased to join Hands For Hunger as a benefactor of Paradise Plates, the organizations' 8th annual signature benefit event and largest local fund-raising effort in aid of hunger relief.
"We are proud to support the work that Hands For Hunger is doing to eliminate hunger in The Bahamas," said Nakera Symonette, Senior Manager, Marketing and Public Relations, Scotiabank. "Children are among those persons who benefit from the agency's daily delivery of meals to various partner organizations on the island".
"At Scotiabank, we are committed to helping young people in our communities become better off. They are our future leaders and deserve essential resources, like access to healthy meals," Symonette continued. "We have partnered with Hands For Hunger from its early stages and continue to endorse their vision of a society where no one goes hungry, especially our youth."
"Throughout the years, Scotiabank has been a phenomenal partner to Hands For Hunger and we look forward to growing even more with their assistance," said Zeleka Y. Knowles, Executive Director, Hands For Hunger.
"In the past year, our small team is proud to report that we are feeding more people than ever before, we have added four new recipient agencies to our roster; launched a farm-based volunteer initiative where we help local farmers with their harvest and donate a portion of the reaping to those in need; and we designed student led Hands For Hunger clubs in select schools throughout Nassau," said Knowles.
About Paradise Plates
Paradise Plates is a unique evening of gourmet food, wine, beer and cocktail tastings, complemented by an assortment of live entertainment, a thrilling live and silent auction, and raffle. In a casual setting of elegant décor, chefs from the island's top restaurants will be featuring the best of their culinary treasures and signature creations to the delight of hundreds of guests. 
Saturday, September 30th, 2017
7:00 pm – 11:00 pm 
Atlantis Grand Ballroom, Paradise Island, Bahamas
About Hands For Hunger
Hands For Hunger is a nonprofit humanitarian organization focused on eliminating unnecessary hunger and significantly reducing food waste through the creation of meaningful and engaging partnerships formed amongst all sectors of the Bahamian community. Since 2008, we have been able to provide over 1 million meals to Bahamians in need through our food rescue program that currently assists 18 Recipient Agencies throughout New Providence, while preventing approximately 2,600+ tons of CO2 emissions from entering our atmosphere.
Our vision is a transformed Bahamas where everyone has access to three nutritious and fortifying meals each day. No one goes hungry. The quality of our environment is enhanced.
About Scotiabank
Scotiabank is Canada's international bank and a leading financial services provider in North America, Latin America, the Caribbean and Central America, and Asia-Pacific. We are dedicated to helping our 24 million customers become better off through a broad range of advice, products and services, including personal and commercial banking, wealth management and private banking, corporate and investment banking, and capital markets. With a team of more than 88,000 employees and assets of over $906 billion (as at July 31, 2017), Scotiabank trades on the Toronto (TSX: BNS) and New York Exchanges (NYSE: BNS). For more information, please visit www.scotiabank.com and follow us on Twitter @ScotiabankViews.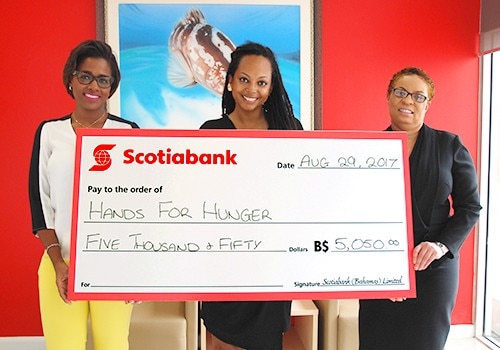 Pictured (L to R): Nakera Symonette, Senior Manager, Marketing & Public Relations, Scotiabank Caribbean North; Zeleka Knowles, Executive Director, Hands For Hunger and Tanya Young, Director, Human Resources, Scotiabank's Northern Caribbean District.

For further information, please contact: 
Maxine Seymour
Manager Public & Corporate Affairs, Sponsorships & Philanthropy 
T: (242) 356-1446
F: (242) 356-1601
e: maxine.seymour@scotiabank.com