Scotiabank wins Best Digital Bank Award for 5th consecutive year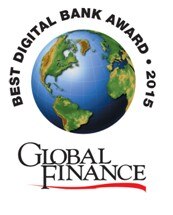 Scotiabank has been recognized by Global Finance Magazine as the Best Digital Bank (formerly the Best Internet Bank Award) in The Bahamas for 2015. This is the 5th consecutive year this prestigious title has been bestowed upon the Bank. In total, Scotiabank received recognition in 21 countries across the Caribbean and Central America in 2015.
"We are very proud to have been recognized by Global Finance for the quality of our digital banking and customer service in The Bahamas," said Sean Albert, Managing Director. "At Scotiabank one of our priorities is to make it easier for our customers to do business with us. Our multichannel, digital platform, which allows customers to bank when and where they want, is an important part of how we are delivering on that."
Scotiabank also received Best Digital Bank recognitions in Anguilla, Antigua & Barbuda, Barbados, Belize, British Virgin Islands, Cayman Islands, Costa Rica, Dominica, Dominican Republic, Grenada, Guyana, Haiti, Jamaica, St. Kitts & Nevis, St. Lucia, St. Maarten, St. Vincent and the Grenadines, Trinidad & Tobago, Turks and Caicos and the US Virgin Islands.
Winning banks were selected based on the following criteria: strength of strategy for attracting and servicing digital customers, success in getting clients to use digital offerings, growth of digital customers, breadth of product offerings, evidence of tangible benefits gained from digital initiatives, and web/mobile site design and functionality.
Joseph D. Giarraputo, publisher and editorial director, of Global Finance commented: "As new innovations continue to proliferate, the winners of this year's awards are those that take advantage of the vast array of new solutions out there in order to provide the best customer experience to clients".
About Scotiabank in The Bahamas 
Scotiabank has been a part of The Bahamas for almost 60 years. Scotiabank Bahamas offers a comprehensive line of Retail, Small Business, Corporate, Commercial and Wealth services through its network of branches across the country. The Bright Future Program in The Bahamas is the foundation of Scotiabank's philanthropic efforts in the country and incorporates both corporate giving and employee volunteerism.
About Scotiabank
Scotiabank is a leading financial services provider in over 55 countries and Canada's most international bank. Through our team of more than 86,000 employees, Scotiabank and its affiliates offer a broad range of products and services, including personal and commercial banking, wealth management, corporate and investment banking to over 21 million customers. With assets of $792 billion (as at July 31, 2014), Scotiabank trades on the Toronto (BNS) and New York (BNS) Exchanges. Scotiabank distributes the Bank's media releases using Marketwired. For more information please visit www.scotiabank.com.

 
For further information, please contact: 
Maxine Seymour
Manager Public & Corporate Affairs, Sponsorships & Philanthropy 
t: (242) 356-1446
f: (242) 356-1601
e: maxine.seymour@scotiabank.com