Scotiabank - Corporate Partner of Marathon Bahamas
Nassau, The Bahamas, January 6, 2016 - Scotiabank has again joined forces with Marathon Bahamas as a Corporate Partner for the 2016 Race Weekend.
For the 4th consecutive year, Scotiabank is proud and excited to be the lead partners for the Scotiabank Students Run Marathon Bahamas initiative which provides an opportunity for distance running student athletes to participate in the relay component of the annual Marathon Bahamas. The initiative aligns well with the Bank's social responsibility platform - Young People in the Community - which supports opportunities to give back to youth in the community through a number of areas focusing on health and education.
"We at Scotiabank believe in the future of the Bahamas and consistently seek out opportunities, such as this, to support and highlight the positive strides that our young people are making. This year's Student Run Marathon Bahamas will see some 21 teams of student runners run the 26.2 mile course, competing for special prizes and trophies, in addition to the race finisher's medals," said Leah Davis, Senior Manager of Marketing and Public Relations at Scotiabank.
"The Scotiabank Students Run Marathon Bahamas is more than a 26.2 mile race. It is an opportunity for participants to apply the same principles necessary for completing and winning a marathon to 'winning' the race of life – commitment, focus, resilience, preparation and vision," Davis continued. "We believe that for these students, this running experience can be positively life changing."
The Marathon is on Sunday, January 17 beginning at 6:00a.m. at Oceanfront at Junkanoo Beach.
About Scotiabank
Scotiabank is Canada's international bank and a leading financial services provider in North America, Latin America, the Caribbean and Central America, and parts of Asia. We are dedicated to helping our 23 million customers become better off through a broad range of advice, products and services, including personal and commercial banking, wealth management and private banking, corporate and investment banking, and capital markets. With a team of approximately 90,000 employees and assets of $856 billion (as at October 31, 2015), Scotiabank trades on the Toronto (TSX: BNS) and New York Exchanges (NYSE: BNS). Scotiabank distributes the Bank's media releases using Marketwired. For more information, please visit www.scotiabank.com and follow us on Twitter @ScotiabankNews.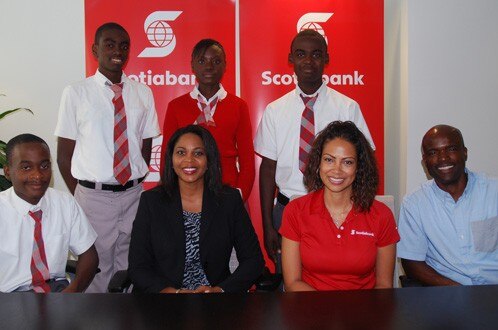 Seated (L to R): Marfeeyou Joseph, 1st leg, C.R. Walker School Mixed Relay Team; Shelly Wilson, VP Operations, Sunshine Bahamas/Director, Marathon Bahamas Race Weekend; Leah Davis, Senior Manager, Marketing & Public Relations, Scotiabank; Trevor Strachan, Coordinator, Students Run and Proprietor, Glass & Accessories Warehouse
Standing (L to R): Lhevinne Joseph, Anchor; Dana Francois, 2nd leg; Norris Joseph, 3rd leg - CR Walker School Mixed Relay Team


For further information, please contact: 
Maxine Seymour
Manager Public & Corporate Affairs, Sponsorships & Philanthropy 
t: (242) 356-1446
f: (242) 356-1601
e: maxine.seymour@scotiabank.com