The Bahamas National Trust Wine and Art Festival
SCOTIABANK PARNTERS WITH BAHAMAS NATIONAL TRUST
Nassau, The Bahamas, October 14, 2015 – Scotiabank is pleased to announce its partnership with the Bahamas National Trust as a returning sponsor of their annual Wine & Art Festival.
"Scotiabank is proud to sponsor the Wine and Art Festival for a third consecutive year. The Festival highlights our country's vibrant art community and offers an enriching experience that brings people together from every background," said Leah Davis, Senior Manager of Marketing and Public Relations at Scotiabank.
"Scotiabank has always had a strong commitment to the environment. This Festival is a major source of funding for the Bahamas National Trust, one of the Bahamas' leading environmental agencies dedicated to the conservation and protection of the Bahamian environment and natural resources. We are proud to support them," Davis asserted.
The annual Wine & Art Festival is scheduled for Saturday, October 31, 2015 at the Retreat on Village Road. Scotiabank's wealth management team will host its clients to an exclusive reception during the Festival's Members' Night on Friday, October 31. The Bank's volunteers will manage the entry gate during the day on Saturday.
About Scotiabank

Scotiabank is Canada's international bank and a leading financial services provider in North America, Latin America, the Caribbean and Central America, and parts of Asia. We are dedicated to helping our 21 million customers become better off through a broad range of advice, products and services, including personal and commercial banking, wealth management and private banking, corporate and investment banking, and capital markets. With a team of more than 87,000 employees and assets of $863 billion (as at July 31, 2015), Scotiabank trades on the Toronto (TSX: BNS) and New York Exchanges (NYSE: BNS). Scotiabank distributes the Bank's media releases using Marketwired. For more information, please visit www.scotiabank.com and follow us on Twitter @ScotiabankNews.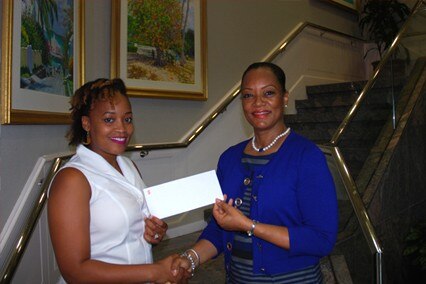 Pictured (L to R): Astra Armbrister-Rolle, Director of Development, Bahamas National Trust receives the sponsorship cheque from Nicola Farrington, Director of Fiduciary Services, Scotiatrust.
 
For further information, please contact: 
Leah R. Davis
Senior Manager - Marketing & PR
Scotiabank (Bahamas) Ltd.
T: 242.356.1475
E: leah.davis@scotiabank.com