Scotiabank Supports World Diabetes Day
Nassau, The Bahamas, November 13, 2017 – Scotiabank is proud to support World Diabetes Day (WDD), celebrated on November 14 of each year.
"We are committed to helping young people become better off and are thrilled to partner with The Bahamas Diabetic Association to raise awareness as diabetes is prevalent among our population, impacting adults and children," said Nakera Symonette, Senior Manager, Marketing, Scotiabank.
In recognition of WDD, Scotiabank made a donation to The Bahamas Diabetic Association; employees are also wearing blue ribbons to raise awareness.
"The International Diabetes Federation has taken a particular interest in The Bahamas this year, as our percentage of diagnoses persons has hit an all-time high," said Eugene Thurston, Director General, The Bahamas Diabetic Association. "We have intensified our efforts to educate Bahamians on this disease and its serious complications."
The theme for WDD 2017 is Women and Diabetes.
About World Diabetes Day
World Diabetes Day (WDD) was created in 1991 by IDF and the World Health Organization in response to growing concerns about the escalating health threat posed by diabetes. World Diabetes Day became an official United Nations Day in 2006 with the passage of United Nation Resolution 61/225.
WDD is the world's largest diabetes awareness campaign reaching a global audience of over 1 billion people in more than 160 countries. The campaign draws attention to issues of paramount importance to the diabetes world and keeps diabetes firmly in the public and political spotlight.
The World Diabetes Day campaign aims to:
• Be the platform to promote IDF advocacy efforts throughout the year.
• Be the global driver to promote the importance of taking coordinated and concerted actions to confront diabetes as a critical global health issue.
The campaign is represented by a blue circle logo that was adopted in 2007 after the passage of the UN Resolution on diabetes. The blue circle is the global symbol for diabetes awareness. It signifies the unity of the global diabetes community in response to the diabetes epidemic.
About The Bahamas Diabetic Association
The Bahamas Diabetic Association was established in 1986 by Ethel Knowles and Diana Pinder, women in the community who at that time both had children suffering with diabetes. These women felt the need to establish a support group in an effort to bring together parents facing the same challenge.
As time progressed, other persons in the community suffering from diabetes became aware of what was happening and the advantages of being a part of this movement. As a result more persons partnered with Ethel and Diana and it is through their combined efforts that the Bahamas Diabetic Association was formed.
BDA offers many basic services to the community such as glucose testing which is done on a daily basis. The Association also stocks items for sale such as glucose strips and machines. They also provide a free educational program for persons recently diagnosed with diabetes. This service is also extended to members' families as a way of offering support and creating an awareness of the implications of the disease on their loved ones and the family as a whole.
About Scotiabank
Scotiabank is Canada's international bank and a leading financial services provider in North America, Latin America, the Caribbean and Central America, and Asia-Pacific. We are dedicated to helping our 24 million customers become better off through a broad range of advice, products and services, including personal and commercial banking, wealth management and private banking, corporate and investment banking, and capital markets. With a team of more than 88,000 employees and assets of over $906 billion (as at July 31, 2017), Scotiabank trades on the Toronto (TSX: BNS) and New York Exchanges (NYSE: BNS). For more information, please visit www.scotiabank.com and follow us on Twitter @ScotiabankViews.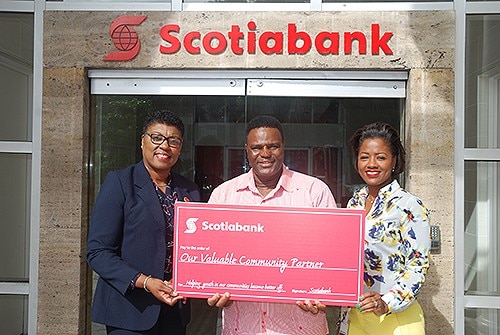 Pictured (L-R) Katherine V. Russell, Branch Manager, Scotiabank's Nassau, Main Branch; Eugene Thurston, Director General, The Bahamas Diabetic Association and Nakera Symonette, Senior Manager, Marketing & Public Relations, Scotiabank Caribbean North

For further information, please contact: